Best Institute For Banking Classes In India – Wice India
We are all united in a common goal to "Make you successful in your career"
Who We Are
Winner institute is the leading national institute specializing in bank and other recruitment courses with a full-fledged competitive examinations Research department, headed by our Founder Director, Mr. ABHAY SATYAKI. After rendering years of service to the banking sector, our Director Mr. ABHAY SATYAKI at Managerial position with Andhra Bank and joint Director Ms. MRUDULA MESHRAM at Managerial position with SBI started this institution to guide and nurture aspirants to achieve their goal. They provide invaluable knowledge and insight. acquired from years spent at a high level in the banking sector and academia. Through a wealth of experience and achievement, they cultivate an ethos in which students are encouraged, innovated and inspired. We ensure that this approach is present across our entire faculty, so your career feels the benefits. Our lecturers can provide unmatched guidance regarding our course and career.
---
Our Environment

After Completing 10 years in the banking sector, our Director Mr. Abhay Satyaki (Chief Manager, Andhra Bank) and Ms. Mrudul Meshram (Manager, SBI) have started this institution to guide & nurture graduates to achieve their aspiring jobs.

Our Motive is to cultivate an Ethos in which you can learn, Grow and Succeed. We strive relentlessly for developing & nurturing tomorrows Bankers & Administrative officers. Our objective is to set standard in our intensive and innovative teaching Programme. We believe in ethical, sincere and open approach to surpass our student's expectations consistently with best in class efficiency.

Our Vision is to be a premier institute which leave no stone unturned in developing , facilitating and nurturing competent professionals in Banking, Finance and Administration field. We strive to offer excellent Teaching, One to One Guidance and long term commitment to become the best institute for competitive examinations in India.
Why banking as a career?
Banking Sector provides you job security, excellent remuneration, respectful social status, stepping stone to get opportunity, to excel in life.
Banking is one of the most sought after career Choice. If you wish to be a team leader working hard to earn the reputation and handsome salary,banking industry will be an excellent move for your bright Career.
This is the sector which has ample scope for faster promotions than any other Sector.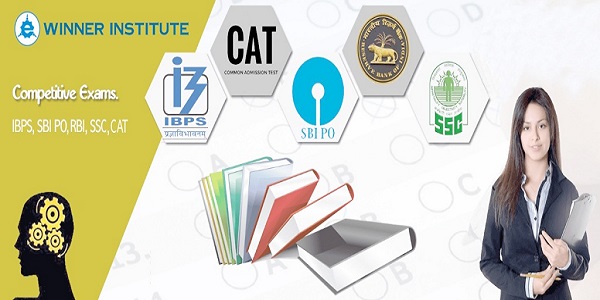 Here are some of the most common reasons why we usually go for a banking job:
The banking sector is one of the fastest growing business fields in India.

They give you lots of opportunities to grow.

The banking sector has a job for candidates from almost every field of education, including finance, engineering, software, MARKETING, technology, etc.

The banking sector has a job for various qualifications including graduate, post-graduate, 10th pass, 12th pass, diploma, etc.

Added benefits and good salary

The banking sector is no more limited to traditional lending and depositing, but with the introduction of technology, the sector has become much more appealing and challenging.

Job stability and safety

Banking jobs give you a chance to interact with people and to know the FINANCIAL and economical status of your country.

Less stress as compared to private sector jobs

Job timing is fixed and are flexible

You become a part of the growth of the economy of your country

Banks are one of the most important part of our daily system and so are bank employees.
These are the most common reason we give when asked "Why do you want a bank job?"
Here are some other reason why one should go for a banking job:
Banking job is secure and provides you with stability

Salary and other benefits are better than private industries

Banking job doesn't cause as much stress and tension as a private job does

Since job timing is fixed, you can give enough time to other important things including your family
These are the most basic reasons why one should go or one would go with a bank job. WiceIndia is one of the best institutes for banking classes in Pune that provides coaching for bank exams.